Forum Moderne Landwirtschaft Gains The Cultivated B as New Member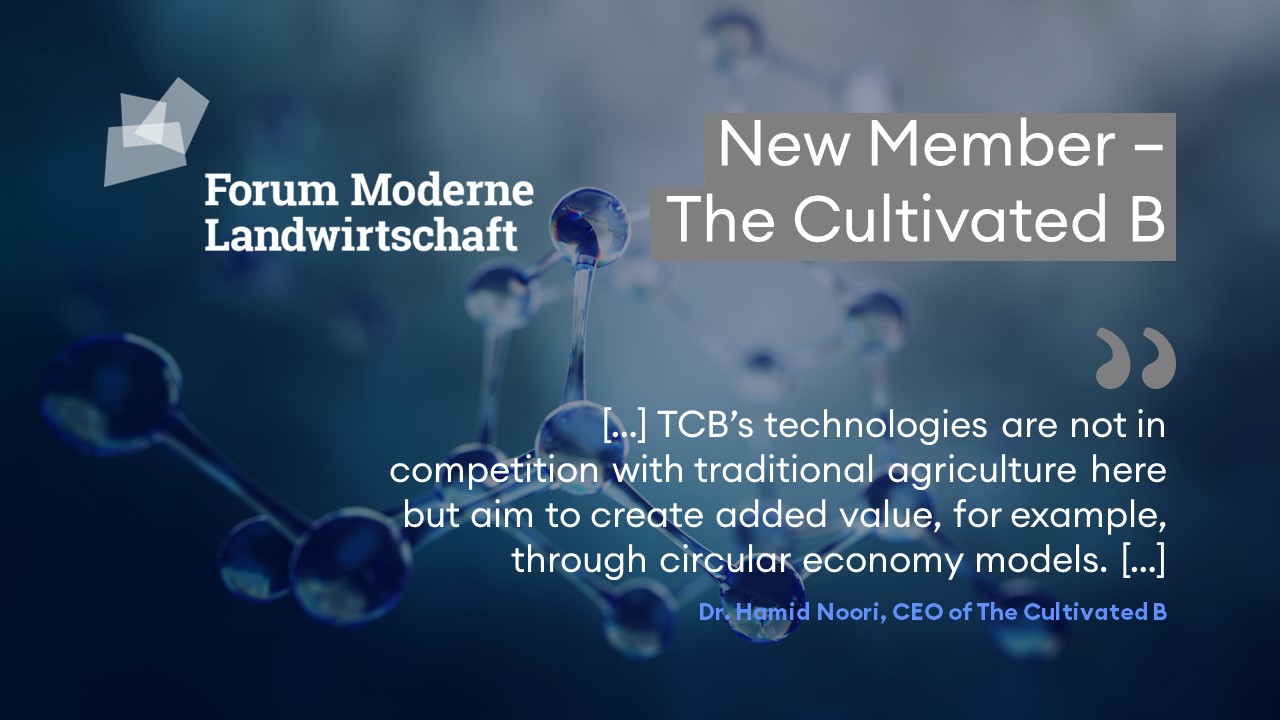 Berlin, October 12, 2023 – The Forum Moderne Landwirtschaft (FML, Modern Agriculture Forum) announced that The Cultivated B (TCB) joined as a new member. The FML is now expanding its expertise in the field of innovative biotechnology and further developing its role as a catalyst mediator between consumers, farmers and the agricultural industry.

The FML takes responsibility for showcasing innovation in the field of modern agriculture, making it more visible to society for increased acceptance, appreciation and recognition. To accomplish this, the FML promotes dialog between farmers and consumers. This requires strong partnerships like the one now with The Cultivated B.

The Cultivated B is a science-driven biotechnology and bioengineering company focused on scaling-up alternative protein production and cellular agriculture. TCB develops new molecular resources such as cell lines, cell culture media and novel proteins and works on innovative bioreactor manufacturing technologies. With a focus on plant- and cell-based food production, TCB helps its customers break new ground.

"The Cultivated B's membership is a tremendous asset to the Modern Agriculture Forum," said Lea Fliess, executive director, Modern Agriculture Forum. "Our goal is to bring agriculture back to the center of society. Through TCB's new membership, we can more strongly demonstrate the multifaceted nature of modern agriculture and present what innovative and forward-looking solutions already exist today for safe, sustainable and resource-conserving agriculture."

"Agriculture faces the challenge of using resources as efficiently as possible while at the same time protecting the climate and animal welfare. TCB's technologies are not in competition with traditional agriculture here but aim to create added value, for example, through circular economy models," said Dr. Hamid Noori, CEO of The Cultivated B. "It is important to us to communicate innovations clearly and transparently, which is why we seek dialogue between farmers and consumers. That's what the Modern Agriculture Forum promotes, which is why it's important for us to be a member."

Currently, 70 members, 164 supporting farms and more than 800 AgrarScouts, farmers who volunteer to do public relations work on agricultural issues, are involved in Forum Moderne Landwirtschaft. For more information, visit: https://www.moderne-landwirtschaft.de/.